Career Paths Air Force - SB+T´s Guide & Digibook App.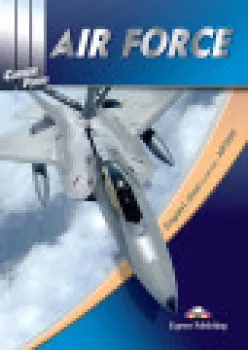 Autor:

Virginia Evans, Jenny Dooley, Stanley Wright
/
Vydavatel:

Express Publishing s.a.
Career Paths: Air Force is a new educational resource for people who are serving or intending to serve as professionals in the aerial division of the armed forces, and who want to improve their English communication skills in a profession-oriented environment. Incorporating career-specific vocabulary and contexts, each unit offers step-by-step instruction that immerses students in the key language components. Career Paths: Air Force addresses topic including: the parts, types and functions of aircraft; air force organization and training; the range of air force career specializations; the types and characteristics of air force weaponry; air force tactics and strategy; and many more. The series is organized into three levels of difficulty and offers over 500 vocabulary terms and phrases. Every unit includes a test of reading comprehension, vocabulary, and listening skills, and leads students through written exercises and oral production. Included Features: - Factual, up-to-date reading passages on a wide range of topics related to all aspects of today´s air force - Realistic, career-specific dialogues - 45 reading and listening comprehension checks - Over 500 vocabulary terms and phrases - Guided speaking and writing exercises - Complete glossary of terms and phrases The Teacher´s book contains a full answer key and audio scripts. The audio CDs contain all recorded material in American English and British English. Books 1-3 of Career Paths: Air Force are rated for the Common European Framework of Reference for Languages at A1, A2 and B1 respectively. Digibook Express DigiBooks is an innovative and motivational way to educate learners of all ages. Students become more engaged in the educational process through a carefully crafted, gamified learning experience that spans all levels of your school. The platform is designed for use at home, in the language lab or on the move. Through cutting edge technology and gamification, this interactive digital platform promotes 21st century learning and inspires students with the ultimate learning incentive! • Assign homework and monitor students' progress. • Provide instant feedback to leaners. • Encourage self-directed learning through captivating challenges and motivating rewards. • Encourage team spirit and collaboration through the clan system. The code is valid for 36 month from activation date.
Dostupnost zboží:
Skladem 4 ks
Žánr:
Angličtina - Odborná literatura